Discover more from ukraine@war
Ultra-competitive Ukraine-style Politics
A Delicate Issue
Hryvnia exchange rate hijinx

These are the words of Ukrainian President Volodymyr Zelensky on July 4 during a working visit to Odesa region. He was speaking the day after National Bank of Ukraine Governor Yakiv Smolii's resignation was accepted by parliament.
What, exactly, was president trying to say?
"Everyone knows what levers are used for maintaining the hryvnia exchange rate. I don't think they must be changed. This is a delicate issue. Right now, I don't see that we must maintain (the exchange rate), to be honest. We can talk about what my personal preference is: Should we maintain (the exchange rate)… or shouldn't we… or are we operating in market conditions?" Zelensky said.
It is impossible to make sense of these comments, which end in a question. So, we must rely on a pre-semantic analysis of the weird ideas bouncing around inside the president's head.
Meanwhile, National Bank Council Chairman Bohdan Danylyshyn on July 3 summarized the National Bank's shortcomings under Smolii on Facebook.
The main shortcomings:

1. Monetary policy was conducted with insufficient attention (in fact, ignoring) to achieving goal of maintaining sustainable economic growth. The central bank moved to tight monetary policy parameters in conditions of critically weak domestic demand, which led to the stagnation of the economy and its further decline. For almost two years, Ukraine remained the leader among Eastern European countries in terms of the level of monetary policy.

2. The NBU's policy in the foreign exchange market was erroneous. There were no fundamental factors for a significant strengthening of the hryvnia (actually by 20% in 2019). The revaluation of the hryvnia led to losses of enterprises, falling state budget revenues. The National Bank did not take the opportunity to buy foreign currency to replenish foreign exchange reserves, and Ukraine entered the 2020 crisis with reserves that lag behind the norm by 20% according to the IMF composite criterion.

3. The policy of high interest rates has had a detrimental effect on the financial stability of economic entities and public finances. Unfortunately, the NBU did not pay attention to the growth of macro-financial risks in these sectors of the economy. The level of lending to the real sector has fallen sharply. In the public finance sector, the cost of government borrowing has increased significantly.
---
In the tolerant spirit of Rudolf Carnap, we believe that one is likely to want a variety of complementary (noncompeting) pre-semantic analyses - and most especially, a variety of pre-semantic treatments of one and the same "language." One does not have to "believe in alternative logics" to repudiate the sort of absolutism that comes not from logic itself, but from narrow-gauge metaphysics or epistemology. Carnap tried to soften this absolutism by illustrating with his two "methods" and his variable language "L," but although Carnap's beneficial influence is legendary, it seems worth repeating the lesson: There can and should be multiple useful, productive, insightful and pertinent analysis of the same target. Pre-semantics therefore emphasizes the usefulness of thinking in terms of a variety of pre-semantic systems. (Nuel Belnap, "Under Carnap's Lamp" Studia Logica, 2005)
---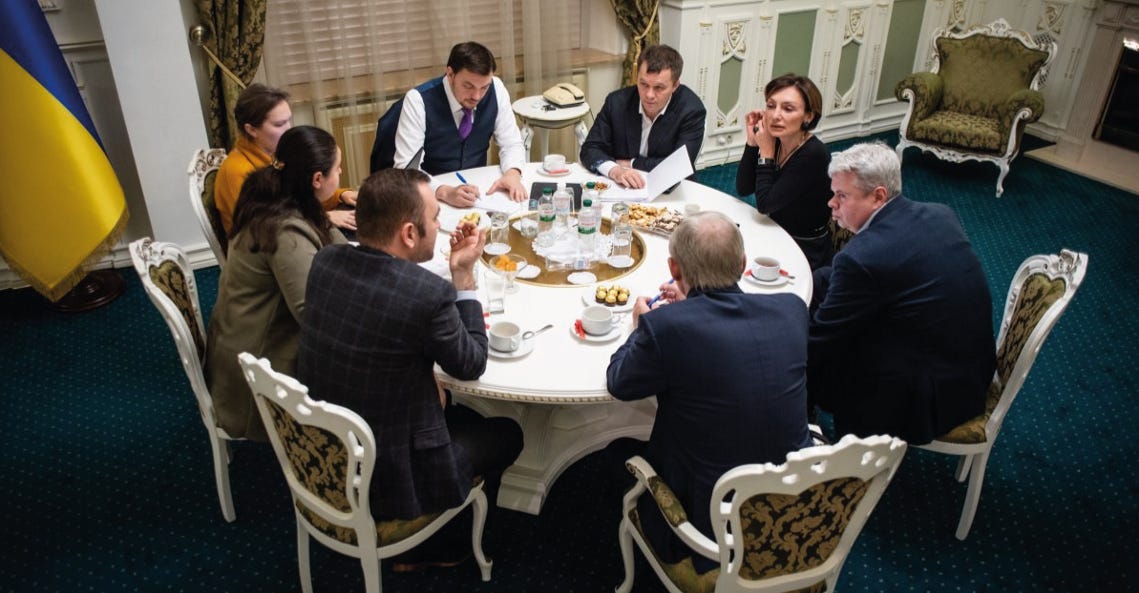 The prequel to Smolii's resignation came in mid-January when a lengthy unedited recording of a macroeconomic policy brainstorming breakfast, attended by Smolii, then Prime Minister Oleksiy Honcharuk, NBU Deputy Chairwoman Kateryna Rozhkova, NBU board member Dmytro Solohub, then Finance Minister Oksana Markarova and other officials, including then Minister of Economic Development, Trade and Agriculture Tymofiy Mylovanov, was leaked.
The quality of the unedited 90-minute long audio recording of the meeting, which took place a month earlier on December 16, 2019, is excellent. It documents an attempt to enhance coordination of monetary and economic policies under the framework of the memorandum on cooperation to achieve sustainable economic growth and price stability, an agreement between the central bank and government signed in October 2019 to coordinate macroeconomic policy.
Former Prime Minister Oleksiy Honcharuk during the Rendevous program aired by TV Channel 5 on June 20 told Yanina Sokolova that the making and release of the recording was a manipulation, a "special operation" conducted to sow discord among members of Ze!Team (05:18). Honcharuk said member of parliament Oleksandr Dubinsky and his colleagues were behind the stunt, which led to his sacking.
Dubinsky is associated with Ukrainian oligarch Ihor Kolomoisky, Zelensky's former client, whose 1+1 TV channel aired the popular Servant of the People television series and supported Zelensky's successful presidential election campaign.
cf. National Bank of Ukraine is Kaput