Discover more from ukraine@war
Ultra-competitive Ukraine-style Politics
Balaclavas Inside Out
Wildly fantastic and frequently absurd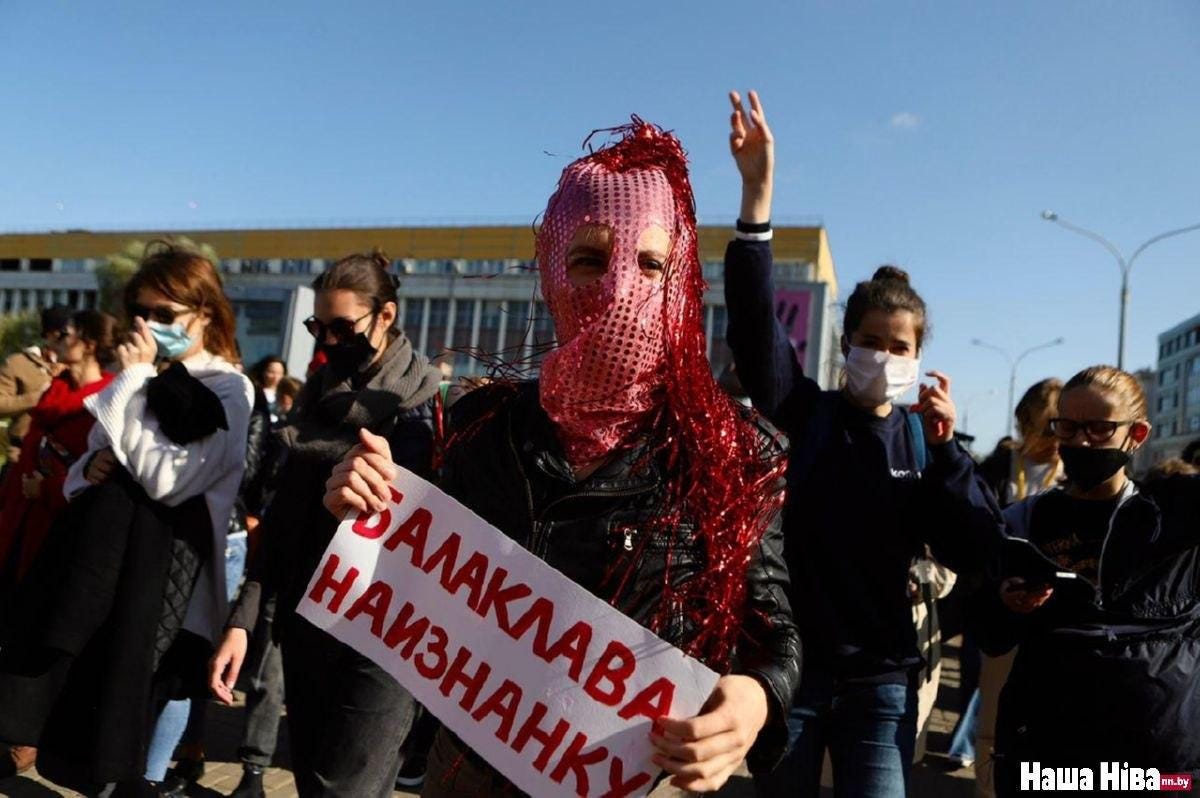 (Demonstrator from the Women's March held in Minsk on September 19, 2020. The sign reads, "Balaclavas Inside Out)
Andrei Kolesnikov at the Moscow Carnegie Center has written an interesting article about the revolution underway in Belarus.
He opines that the confrontation with everything official there is designed to ridicule authorities, who long ago became ridiculous in their super-serious attitudes towards themselves.
[The events] resemble a merry carnival exposing an already caricatured dictator as a naked emperor, roi pour rire, a king to be laughed at, Kolesnikov said.
Which brings us to Mikhail Bakhtin, a philosopher of language, who last century in Vitebsk thought a lot about about thinking the essence of the word in its correspondence to being.
Kolesnikov says what's going on in Belarus today indeed resembles a carnival, which is the opposite of official ceremonies and actions, which seemed to have migrated from the Middle Ages to modern post-Soviet autocracies, in this case, Belarus.
"The official holiday, in essence, looked only back, into the past, and with this past it sanctified the existing system. The official holiday, sometimes even contrary to its own idea, asserted the stability, immutability and eternity of the entire existing world order: the existing hierarchy, existing religious, political and moral values, norms, and prohibitions. The holiday was a triumph of the already finished, victorious, ruling truth, which appeared as an eternal, unchanging and indisputable truth. Therefore, the tone of an official holiday could only be monolithic and serious." (Bakhtin. Rabelais and Folk Culture of the Middle Ages and Renaissance.)
---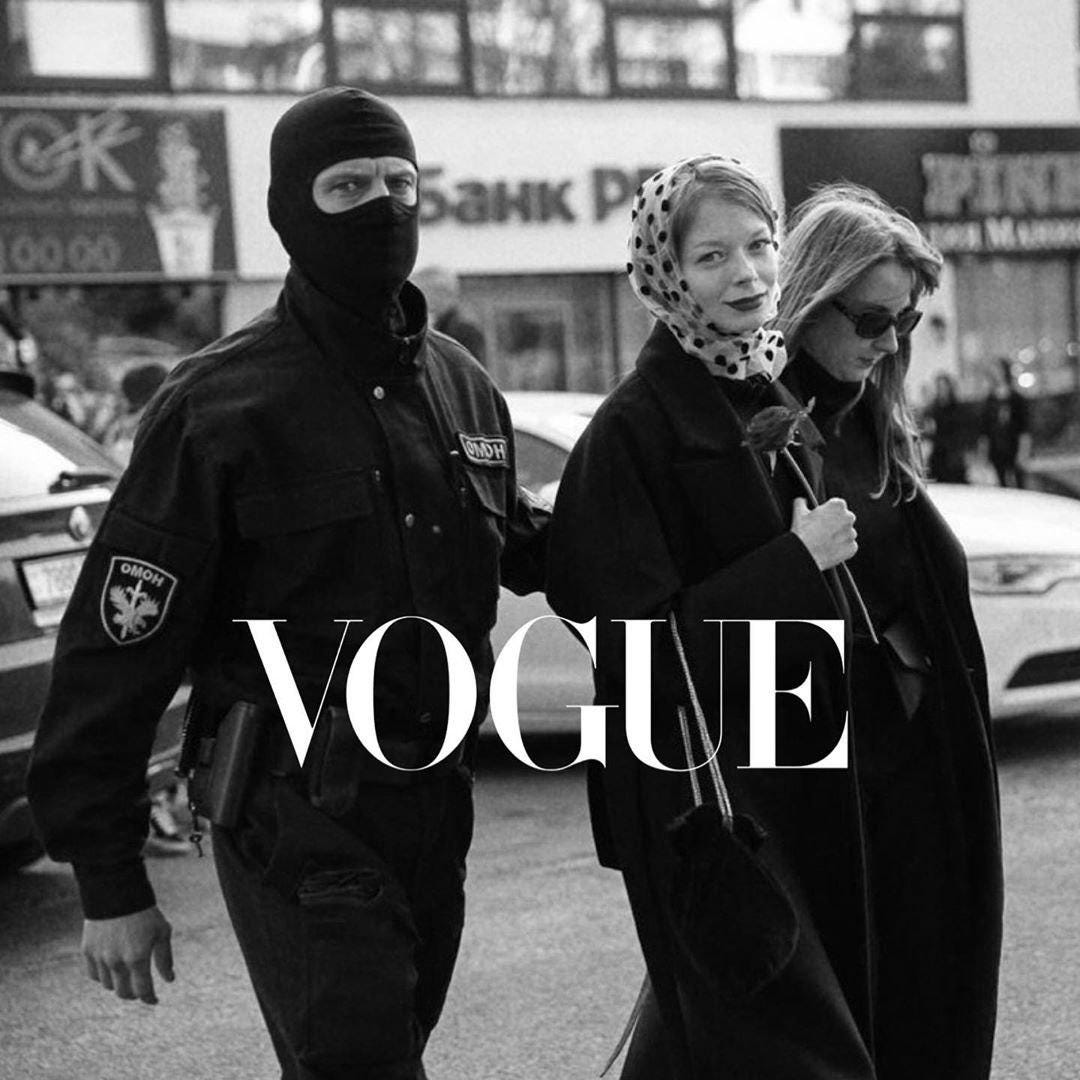 Bakhtin wrote that carnival personifies the oppositional culture of the oppressed, of a 'world turned inside out,' where ordinary citizens engage in behavior that mocks law enforcers and sets new fashion trends.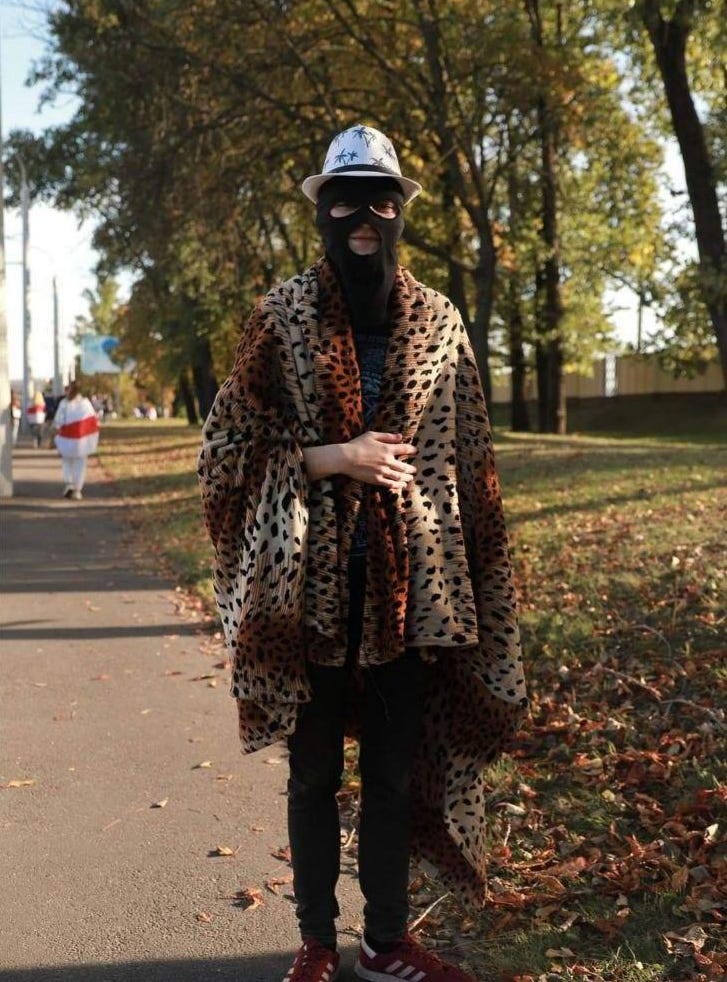 A picture tells a thousand words.
Kolesnikov says demonstrators in Belarus are clearly aware of the derisive, political meaning of their outfits and placards, which demonstrate intentionally a strictly anti-paternalistic orientation.
"A coffin for the dictatorship - We are depriving the father of paternal rights," reads one sign. "Help from Moscow, Kremlin contacts? - ВВП (Vladimir Vladimirovich Putin) [GDP] is something to be raised, not someone to call," says another. A third reads "Error 404. Democracy not found."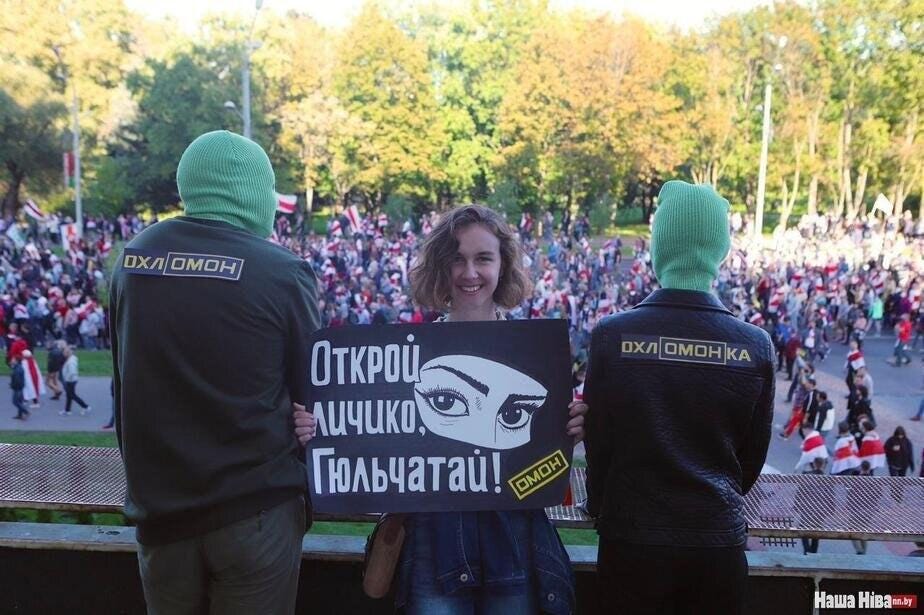 Signs poke fun of riot police using slang in the familiar *you* form. Some protesters wear colored masks and fake police uniforms with profane labels on their backs.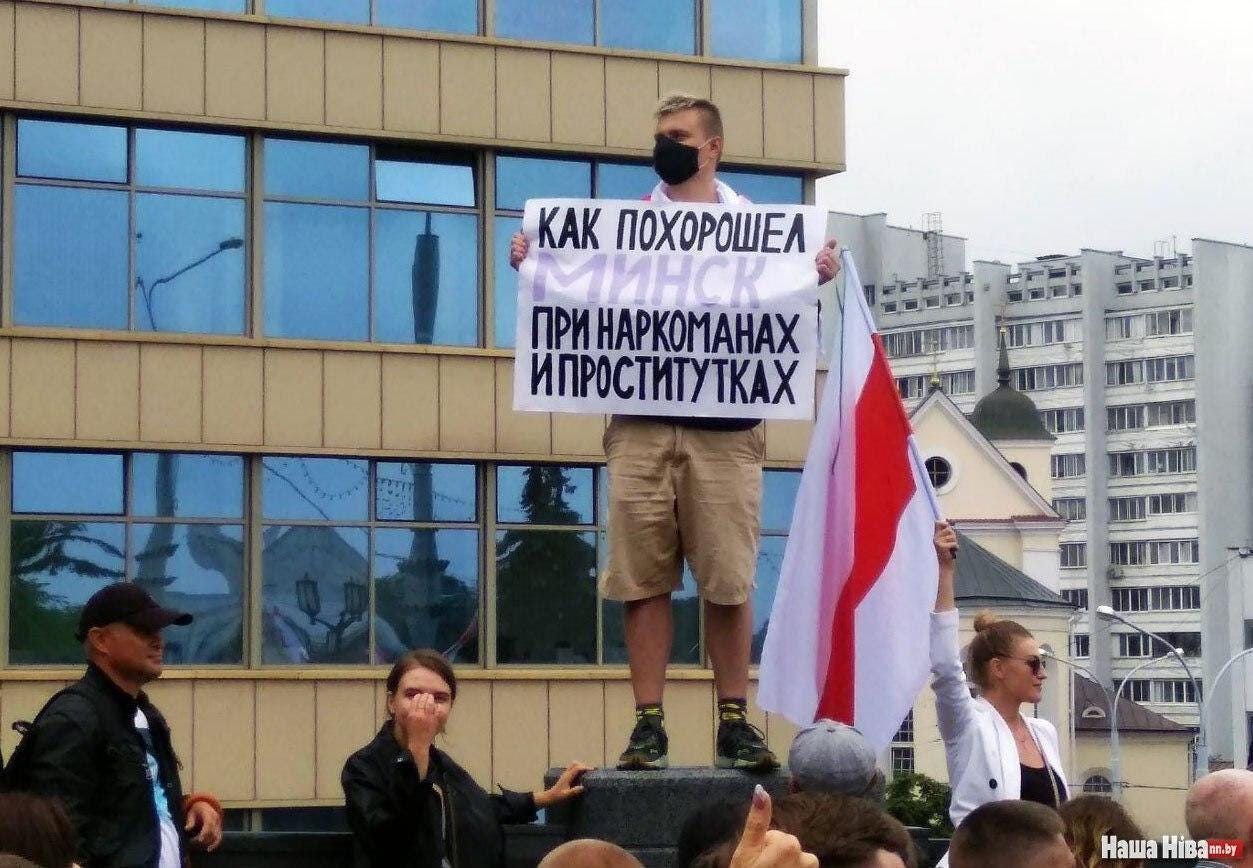 Many placards call attention to the fact that Minsk looks a lot better since drug addicts and prostitutes began marching in the streets almost two months ago.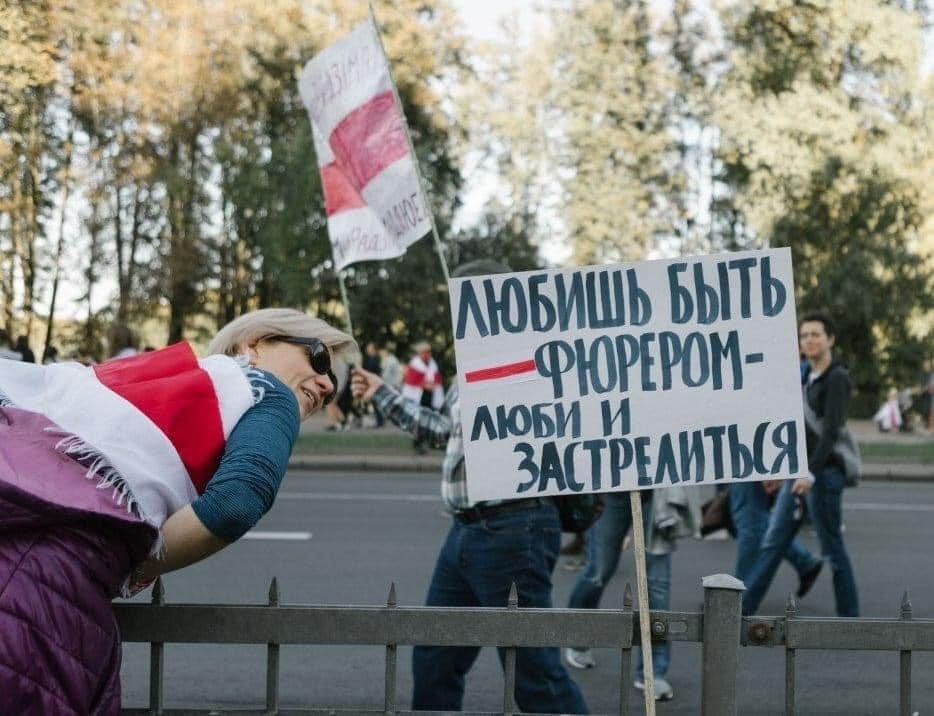 The above sign is addressed to Lukashenko. It reads, "You love to be like Hitler. Enjoy and blow your brains out!"
According to Bakhtin, the basic condition governing the production of meaning in all discourses can be split into a series of interacting metalanguages, sometimes conflicting, sometimes at play. Bakhtin called this interaction polyglossia.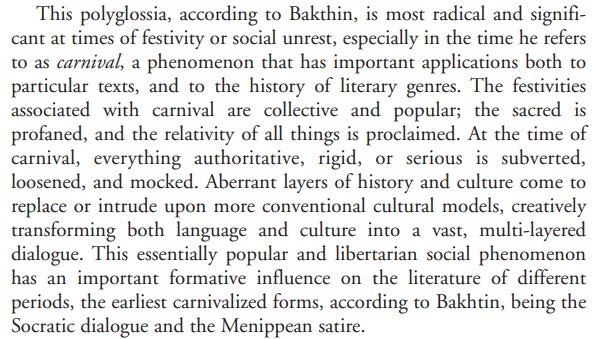 ---
Dasein (being there) is a German word. Being There is also the title of an American comedy-drama film adapted from a 1970 novel by Jerzy Kosiński. 
Being in the World

 would be the Heideggerian title.
Carneval is 

Karneval

 in German, also known as 

Fasching

, when people in some parts of Germany traditionally break the rules, poke fun at those who make the rules and then make their own new rules.   
---