Discover more from ukraine@war
Ultra-competitive Ukraine-style Politics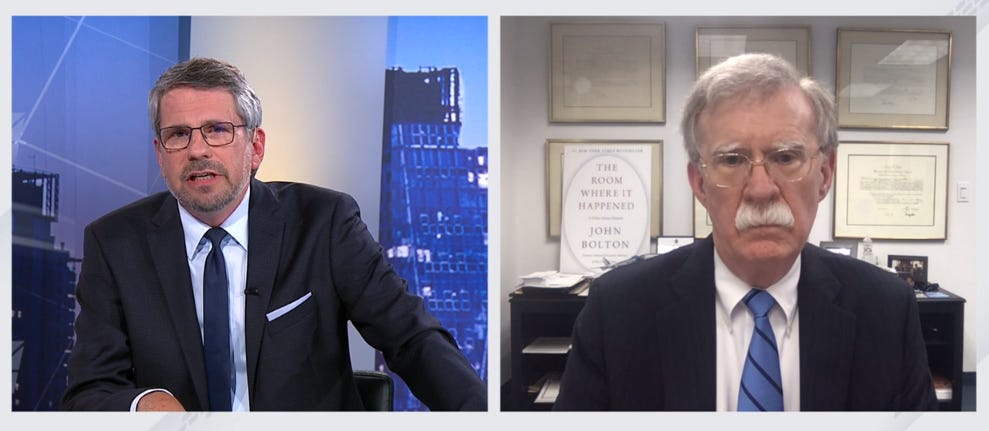 It's too bad most Americans don't understand German and what former U.S. National Security Advisor John Bolton said in an interview with Austria's Puls 24 TV on August 19.
"I can't even count how many times I had to explain to him (Trump) why the Korean Peninsula was divided in 1945. It was the same with Ukraine, which, in his opinion, is essentially a part of Russia," Bolton said.
Bolton's 16-minute chit chat appeared on the same day Steven Erlanger, the chief diplomatic correspondent in Europe for The New York Times, wrote a long article about the current mess in Belarus.
"No European country is going to go to war over Belarus and there are relatively harsh sanctions in place against Belarus and Russia, especially since its annexation of Crimea." Erlanger said.
The part about going to war is the same observation Erlanger made almost 25 years ago. The only thing that's changed is Crimea and the spelling of Belarusian. (It's now correct. Foreign journalists in the late 1990s experienced great difficulty with the adjectival form of Belarus).
So many years and such little progress.
Which brings me to an observation made by CEPA expert Eduard Lucas in an essay, titled "Supporting Freedom in Belarus."
The Lukashenko circle that misrules Belarus launder their money through Western financial centers, and enjoy Western fleshpots for their recreation (Austria is a notable culprit here). Freezing and seizing their assets in the West, and banning their travel, would have not been a sign of Western overreach. It would end an era of deplorable under-reach. It is too late to undo the harm of past passivity. But it is not too late to act now, Lucas said. (cf. emphasis my own)
It doesn't appear that political leaders and policy makers in the EU, especially in Austria and Germany, and in the United States, have learned much in 25 years.
Moral of the story: Ukrainians and Belarusians should presume on themselves vis a vis their own despots and their friends in the Kremlin.
Fun photo of the day: in Vienna en route to Belgrade