Discover more from ukraine@war
Ultra-competitive Ukraine-style Politics
Calling Bullshit on Belarus
Ukraine doesn't know what it is talking about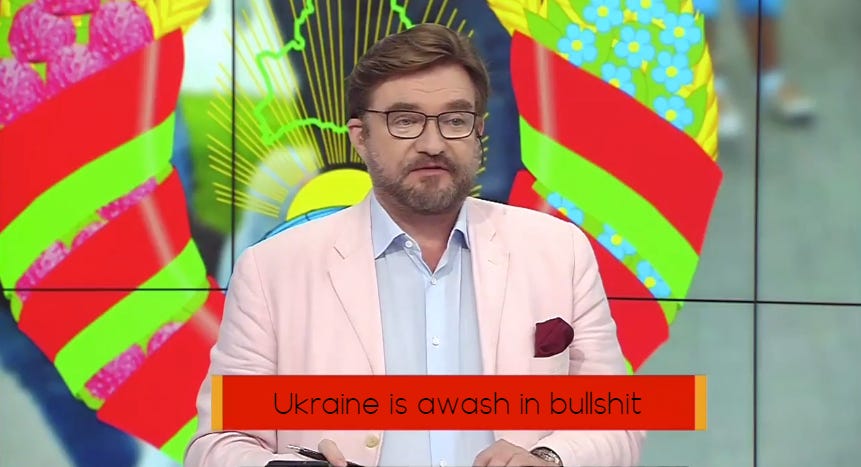 TV news producers in Ukraine are unconstrained by facts. The monologues of their presenters sound like press releases.
This is because the owners of mainstream media in Ukraine reward bullshit over analytic thought. The country's post-revolutionary disaster has elevated this bullshit to high art, and now television channels are bombarding us with bullshit about Belarus.
No, thank you. Shove your combinatorial reassembly of bullshit up your own collective ass.
Russian TV presenter Yevgeny Kiselyov's 18-minute stunt on Ukraina 24 TV on August 10 is a case in point.
Bizarre. Wearing a pink jacket and sitting in front Alexander Lukashenko's ridiculous Belarusian coat of arms, Kiselyov chatted up another Russian journalist, Ivan Yakovina, about recent events in Minsk. Nonstop nonsense. Andrei Sannikov, beamed in from Warsaw, repudiated diplomatically their blatant disregard for facts and logical coherence, but, alas, to no avail.
Moral of the story: do not fear calling bullshit on bullshit, especially when the subject is Belarus. You can also call bullshit on lies, treachery, trickery or other mundane injustices.