Discover more from ukraine@war
Ultra-competitive Ukraine-style Politics
operation y (cont'd)
who torpedoed ukraine's previous government?
i am not a fan of former prime minister oleksiy honcharuk or the government he headed under supreme ruler ze. but i remain interested in why and how he was sacked and who leaked the 90-minute audio recording, which foreign journalists either did not listen to or did not understand. oleksiy at that the start of this chit chat provides some clues, leading me to re-post operation y with this forward and above link. enjoy! (original here)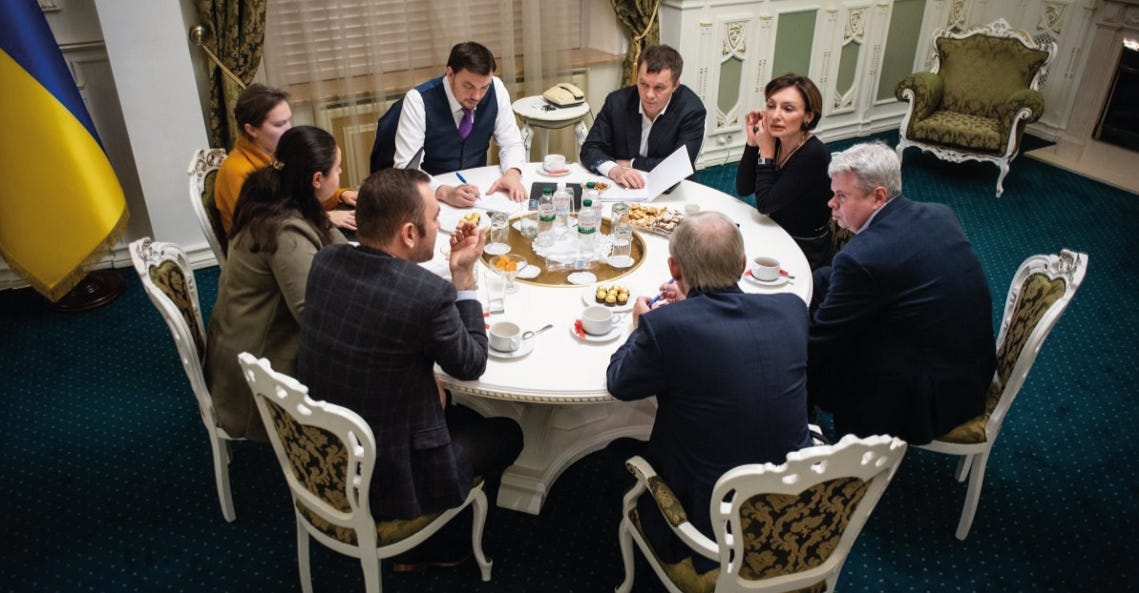 (clockwise: prime minister oleksiy honcharuk, economy minister timofiy mylovanov, deputy heads of the national bank kateryna rozhkova, and dmytro sologub, the bank's head yakiv smolii, deputy finance minister yuriy butsa, finance minister oksana markarova, finance ministry chief economist oleksandra betliy, a meet to discuss hryvnia fluctuation at the cabinet of ministers building in downtown kyiv, on dec. 16, 2019. photo by kmu.gov.ua)
kyiv. ukrainians have known for years that foreign experts pick up on much less in conversation than native speakers. however, few expected that the time would come when the standard of competency turned out to be the ability to agree balance of payments (платёжный баланс) should not be confused with balance of trade (торговый баланс), the difference in meaning between разбрат (a falling out) and разврат (debauchery), оr how best to explain macroeconomic policy to a ukraine's president, who does not know the difference.
the quality of the unedited 90-minute long audio recording of the december 16, 2019 meeting is excellent. it documents an attempt to enhance coordination of monetary and economic policies under the framework of the memorandum on cooperation to achieve sustainable economic growth and price stability, an agreement between the central bank and government signed in october 2019 to coordinate macroeconomic policy.
contrary to most local and international media reports, the latest scandal to rock ukraine is not about the financial illiteracy of the prime minister and president or nbu council chairman bogdan danylyshyn's quarrel with nbu governor yakiv smolii. it's about what ukraine's macroeconomic policy is now and should be in the future.
smolii, prime minister oleksiy honcharuk, national bank of ukraine deputy chairwoman kateryna rozhkova, nbu board member dmytro solohub, finance minister oksana markarova and other officials, including minister of economic development, trade and agriculture tymofiy mylovanov are the main speakers in the brainstorming breakfast.
all participants appear to understand what they are saying. they struggle politely, always audibly and at times incoherently, to agree on how best to explain to president volodymyr zelensky why low inflation and a strong hryvnia is the correct policy for the economy.
three unflattering and misleading excerpts of the discussion were first posted on january 15 to the "how to deceive the president" youtube account (какобманутьпрезидента). honcharuk resigned two days later.
the prime minister acknowledged in a video posted to facebook on the eve of his resignation that he is indeed an ignoramus about economics (якщо це не гарні новини для країни, то я повний "профан" в економіці!). the next day in parliament, he said whoever made and released the audio files was trying to sow discord within ze!team and create the impression that someone does not respect the president, who also has a primitive understanding of economics.
ihor burakovsky, a professor of economics and director of the kyiv-based institute for economic research and policy consulting, said the macroeconomic policy imbroglio leading to honcharuk's resignation reminds him of "operation y," the name of a popular soviet-era comedy where the protagonist, a student, catches three burglars without help when they decide to rob a warehouse.
"the scene that comes to mind is when one of the criminals practices for the crime by placing his handkerchief over the nostrils of ceramic cats," he said.
industrial production in ukraine in november 2019 decreased by 7.5% compared to november 2018 after a decrease of 5% in october and 1.1% in september, according to ukraine's state statistics service. this explains why vice president of the ukrainian league of industrialists and entrepreneurs viktor skarshevsky, a well-known economist who has worked under three governments since 1997, has been an outspoken critic of the government's current macroeconomic policy.
"the prime minister tendered his resignation letter to the president. it would have been easier for him to just drop it off at the central bank, which is closer to the president's office," skarshevsky said.
neither ukraine's industrial slump nor macroeconomic policy were on the agenda during the 10-minute meeting between zelensky and honchaurk on january 17. at the start of their one-on-one meeting posted to facebook, the president said the scandal had created "a very unpleasant situation." he then added that honcharuk and his team would be given another chance.
the president instead asked the prime minister to resolve the following problems by february 4, 2020: 1) remuneration for ministers and top government officials, 2) bonus payments to naftogaz staff for winning the $2.9 billion stockholm arbitration ruling against gazprom, 3) removal of the least competent cabinet members, optimization of ministries and 4) improvement of cooperation between the government and parliament committees.
during an hour-long speech at the peterson institute in washington the same day, imf managing director kristalina georgieva gave a speech and talked about the importance of financial literacy.
ukraine on december 7, 2019 agreed with the imf on a preliminary $5.5 billion loan. the staff-level agreement includes policies to be carried out by ukraine's government to underpin the three-year program.
"work is ongoing. staff continues to be engaged with ukraine. once these conditions are met, that would be the moment for us to go to our board of directors," georgieva said. she did not elaborate what exactly the conditions are.
ukraine's top economists agree prudent macroeconomic policies under ukraine's previous government and central bank have contributed to the strengthening of the country's economy since 2015. few argue that the low fiscal deficit, a falling debt ratio, low inflation and accumulation of international reserves are all the result of these policies and are important preconditions for economic stability and growth.
it is ukraine's current and future macroeconomic policy, based on the continued revaluation of the hryvnia under the pretext of a poorly understood strategy of so-called "inflation targeting" by the central bank, that worries mykhailo kukhar, founder of ukraine economic outlook (ueo), a kyiv-based non-profit that analyzes macroeconomic policy.
"the current approach is the wrong approach, because it will further suppress exports, leading to a further decline in production, layoffs, a decrease in household incomes and purchasing power, under-fulfillment of the budget, increased public discontent, outflow of bank deposits, recession, economic crisis and, ultimately, the decline of zelensky's popularity," he said.
this is exactly the scenario participants in the recordings were brainstorming about pushing zelensky to support, kukhar added.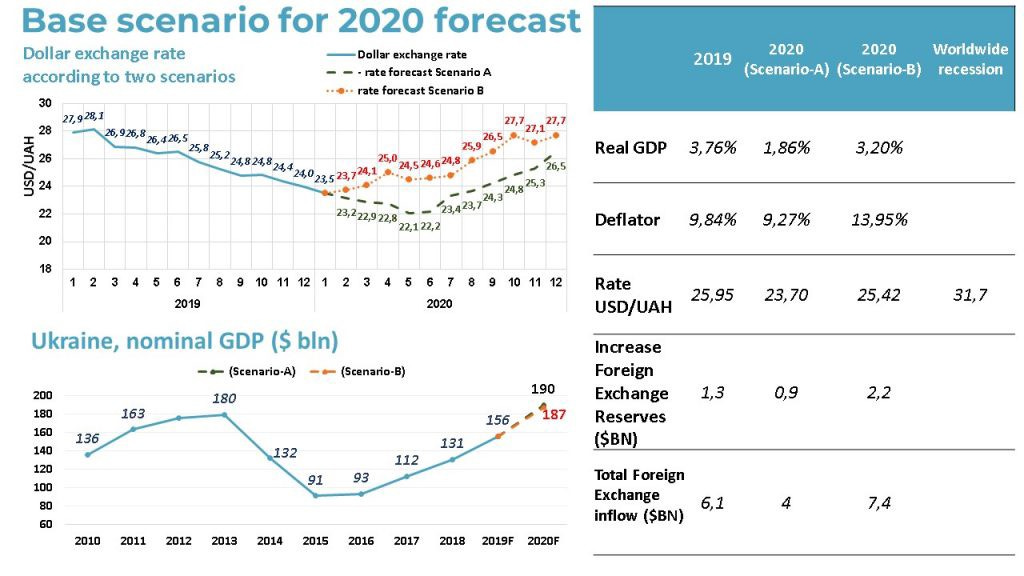 ueo's basic annual forecast for the development of ukraine's economy in 2020 provides for two sequences of possible events, scenario a and scenario b. scenario a, subject to maintaining the current nbu policy on so-called inflation targeting, assumes the maintenance of the current trend of the hryvnia revaluation. in this case, by may-june, the hryvnia exchange rate may strengthen to uah 22 / 1 usd. scenario b provides for the easing of the nbu's monetary policy and the implementation from january of a controlled devaluation of the hryvnia from the current uah 23.5 to uah 27 uah / 1 usd.
both scenario a and scenario b are motivated primarily by expectations of the future exchange rate policy of the national bank of ukraine. one caveat to keep in mind, however: to the extent that exchange rates are dominated by speculative capital transfers, they are purely reflexive. as george soros once famously said, expectations relate to expectations and the prevailing bias can validate itself almost indefinitely.