Discover more from ukraine@war
Ultra-competitive Ukraine-style Politics
Something Really Dangerous
Venedyktova promises 'quick action' in cases against Poroshenko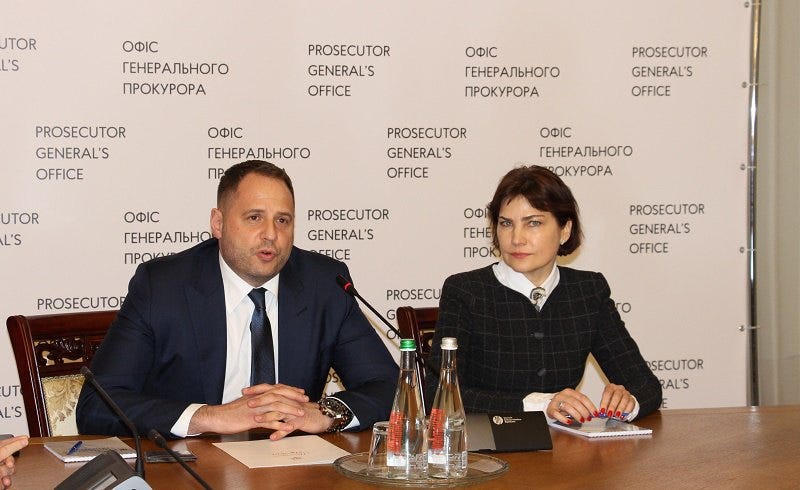 (Photo: gp.gov.ua)
Ukraine's new Prosecutor General was introduced by Deputy Head of the President's Office Andriy Yermak.
"I am convinced that the Office of the Prosecutor General will work efficiently, will enforce Ukrainian legislation and will answer all the challenges of society, which is waiting, first of all, for legality, for justice," Yermak said.
Yermak said Venedyktova is a professional who "will live up to the high hopes we have for the Office of the Prosecutor General."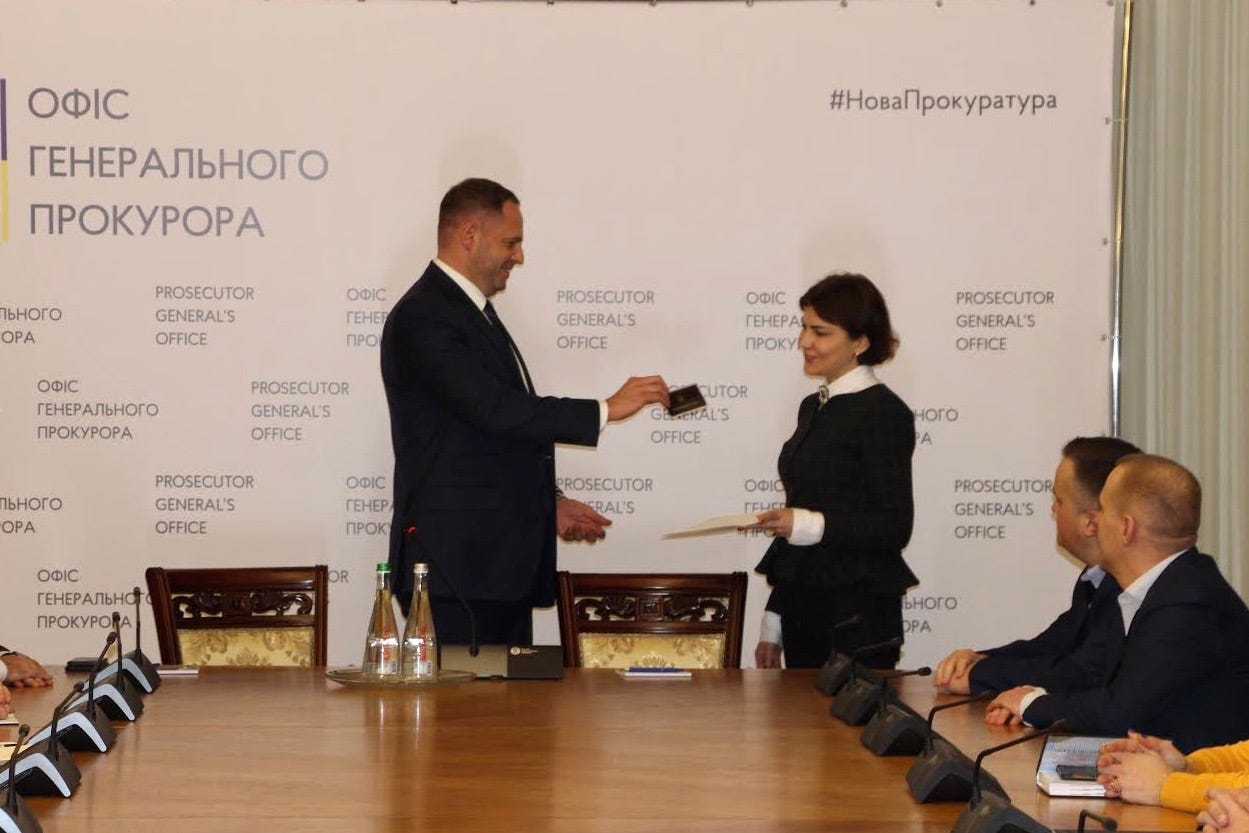 (Photo: gp.gov.ua)
Venedyktova thanked Yermak for his trust. She encouraged her new team of prosecutors to be constructive and cooperative.
"I really respect the institute I am in now. I understand that you are professionals who have put in more than one year to ensure that the Prosecutor General's Office is effective in the triangle of justice. Therefore, of course, we will draw on all of your best qualities," Venedyktova said.
Some 269 Members of Parliament on March 17 supported Venedyktovna, who for the last two and a half months has worked as acting head of Ukraine's State Bureau of Investigations (SBI).
Not a single deputy from the European Solidarity, Holos and Batkivshchyna factions voted in favor of her appointment
Venedyktova told lawmakers during the extraordinary Rada plenary session earlier the same day that she would move quickly on more than a dozen criminal cases implicating former President Petro Poroshenko.
Rebecca Harms, a former member of the European Parliament (2014-2019) thinks President Volodymyr Zelensky's decision to appoint Venedyktova is one more example of a step in the wrong direction for Ukraine.
The new appointments after recent reshuffle of government are in conflict with major promises of Ukrainian President. His choice is not a signal for a new era of dignity, not for unity and also not for consequent fight against corruption, Harms said on Twitter.
Harms joins a growing number of western leaders who have expressed concern over Zelensky's intention to imprison Poroshenko.
Former President of the European Council Donald Tusk said in Zagreb after being elected head of the European People's Party that "something really dangerous" could happen as a result and that "there is no room for politically motivated persecution."
"Any attempt to intimidate opposition leaders will be a matter of concern in Europe … whenever the authorities or people in power use justice against political opponents. In any form, whether in the medium or long term, it will become a tragedy not only for victims of persecution, but for the whole country," Tusk warned.
The popular ezine Ukraine Confidential more than a month ago sounded the alarm about the SBI's efforts to smear Poroshenko.
Zelensky's men ordered investigators to put more pressure on former Ukraine President Petro Poroshenko and his associates through multiple  criminal probes, the ezine said.
The article, titled All the President's Men, said secret recordings from the office of former SBI Director Roman Truba revealed extensive, concerted efforts by Zelensky and his team to steer criminal investigations against political opponents.
More than two dozen audio files secretly made in Truba's office were leaked to the Internet on the "Pipe Has Burst" Telegram channel.

The following conversation between Truba and former head of the President's Office Andriy Bohdan made on November 17, 2019, stands out.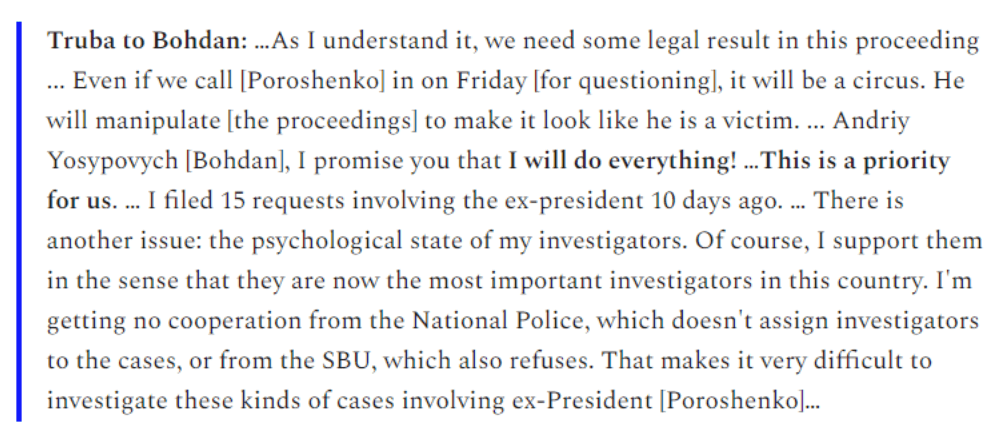 Back in Washington, Melinda Harding, the Atlantic Council's deputy director of Eurasia Center and a senior fellow at the Foreign Policy Research Institute, has sounded the alarm.

Officials at the U.S. Embassy in Kyiv and the Council of Europe's Office in Ukraine told Ukraine@War they are aware of the shenanigans and following the developments closely. They said that due to the spread of the COVID-19 infection, they have switched to working remotely until March 27, 2020.
Maybe if something really horrible happens before then they'll make an announcement from home.