Discover more from ukraine@war
Ultra-competitive Ukraine-style Politics
Ze's Covid Clowns
Pandemic politics in Ukraine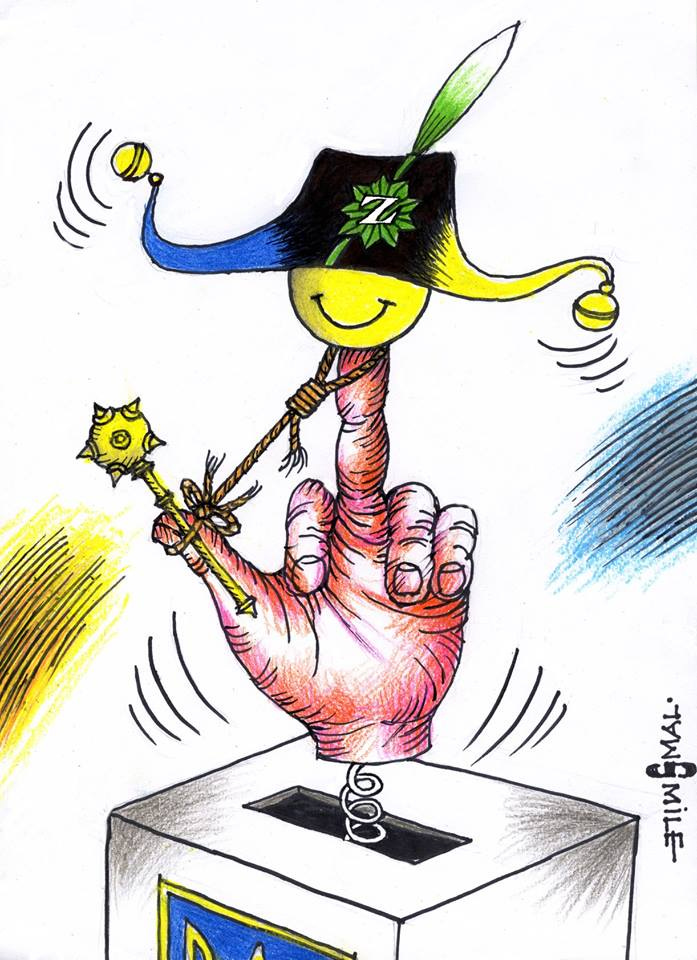 (illustration by Oleh Smal)
It's too bad western journalists who write about Ukraine have difficulty understanding Russian, much less Ukrainian. That ability might enable them to understand, at least, why the president and his mono-majority's MPs are increasingly regarded as self-serving creeps. The crisis has so far offered a convenient pretext for President Volodymyr Zelensky to consolidate power, but the act is already wearing thin.
Zelensky and his his Servant of the People faction in parliament have so far failed to assist healthcare workers who are battling the coronavirus epidemic. They are only interested in 'political dividends,' according to critics in parliament.
"The bill on medical insurance, co-authored by former President Petro Poroshenko, is straightforward. If a doctor gets sick, he will receive about UAH 200,000 from this insurance. If, God forbid, the healthcare worker dies because of COVID-19, then his or her family will receive about UAH 500,000," co-Chairman of the European Solidarity faction Artur Herasymov (European Solidarity faction) said on Wednesday.
"I already know that because of 'political dividends,' Zelensky and the 'servants of the people' don't give a damn about doctors. For them, this bill is a provocation, and they need 'political dividends.' I think the whole country learned about this yesterday. They are now registering an alternative bill in order to reap 'political dividends.' If you want, make a full copy of Poroshenko's bill and bring it up in the chamber for a vote! The main thing is to adopt the bill. You don't need to divide parliament into opposition and pro-government. You need to unite and provide assistance as quickly as possible. We need to survive the epidemic, protect healthcare workers and Ukrainian citizens," Herasymov said.
The lawmaker reiterated that if the parliamentary mono-majority wants "political dividends" and to be applauded, it can copy Poroshenko's bill and pass it.
"We don't care whose bill it is. The main thing is that it is adopted," he said.
---
Herasymov, of course, was referring leaked messages on May 5 from David Arakhamia, Servant of the People faction head, who bemoaned the prospect of Poroshenko receiving credit for drafting and flooring a bill to assist Ukraine's healthcare workers, who are dropping like flies.