Discover more from ukraine@war
Ultra-competitive Ukraine-style Politics
Ukraine's Three-Ring Circus
Zelensky re-tests old adage that absolute power corrupts absolutely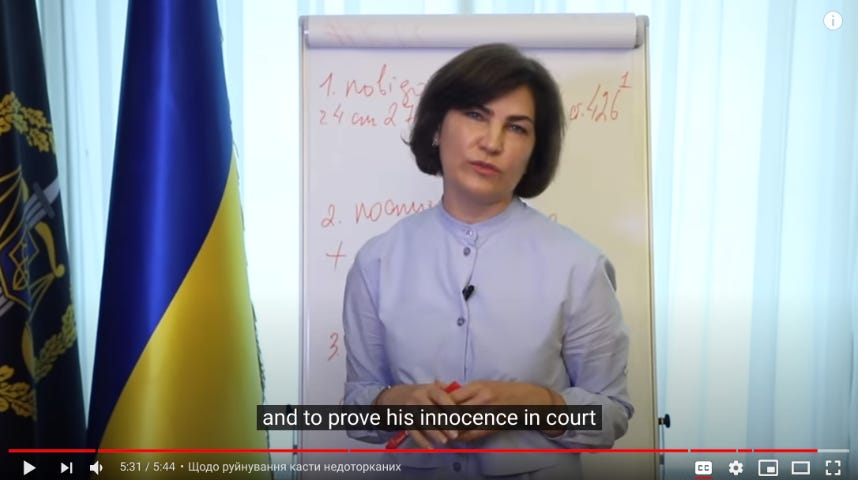 A court is not the place to prove your innocence. A defendant has the right to remain silent and never has to prove innocence. One of the reasons Ukraine has the support of both parties in the U.S. Congress is because it's a country where you do not have to prove your innocence in court.
Indeed, how could anyone ever prove innocence in a Ukrainian court?
In Vladimir Putin's Russia and Alexander Lukashenko's Belarus you have to prove your innocence, but nobody listens to you, so you can't prove your innocence. In civilized countries, a defendant has the right to remain silent and never has to prove innocence or present any evidence. That a defendant may not testify is not to be held against a defendant. Rinse, repeat.
Which brings us to the YouTube video posted last night by Ukraine's top cop, Prosecutor General Iryna Venedyktovna, who for almost six minutes argues that criminal charges brought against former President Petro Poroshenko are legally sound. The clip ends with her saying Poroshenko will have the chance on July 1, 2020 to prove his innocence in court.
As Ariana Gic correctly points out, Venedyktova's stunt violates Ukraine's Constitution, the UN's Universal Declaration of Human Rights, Rome Statute of the International Criminal Court, and more. In Zelensky's Soviet Ukraine, where fundamental rights like the presumption of innocence have no meaning or place, anything is possible, she said.
Poroshenko's lawyer Illia Novikov responded to Venedyktova on July 1 on Facebook in a six-minute video, elaborating numerous technical errors, mistakes and irregularities in the charges against his client.
"It seems that the Prosecutor General believes that you and I live in an era of Tik-Tok justice - when you can just write on a piece of paper instead of justifying your position and not admitting your mistakes, but this is not the case. We are waiting for Iryna Venedyktova at Pechersk District Court of Kyiv, where she will finally be able to explain her position, as required by law," Novikov said.
Poroshenko in an interview with Yanina Sokolova published on June 30 explained what he thinks Zelensky and his handlers are after.
He said the more than two dozen criminal proceedings initiated against him is a consequence of Volodymyr Zelensky's phobias, which are used by his entourage to disguise the leadership failures of the president.
"I like to use the analogy of a compass pointing at Ukraine's enemy. Around Zelensky, it hits in a strange magnetic field and the needle begins to spin around wildly and show him the wrong direction. Ukraine has one enemy, the aggressor state. The country must unite in order to fight back. When magnetic storms constantly switch the direction of the war, government's actions are extremely ineffective," Poroshenko said.
He said pressure by is also being exerted on Sofia Fedina, Tetiana Chornovol, and Marusya Zvirobiy.
"This discredits Ukraine. This will not solve the problem. It is the revenge of small people for small deeds. Insignificant. Zelensky believes the main problem is not total incompetence, but some hostile scenarios within the country, which he associates exclusively with my name," Poroshenko said.
Poroshenko said criminal proceedings against him are an attempt to divert attention from the real problems facing Ukraine, to give people popcorn instead of bread, to remain popular by putting on a show.
"The lack of the rule of law, the persecution of political opponents discredits Ukraine in the world. I am not intimidated. …I have passed much tougher tests during my five years as president, including in 2014 and in 2015. This is not the hardest test," Poroshenko said.
---