Discover more from ukraine@war
Ultra-competitive Ukraine-style Politics
Zelensky and Shevchenko
Ukraine's central bank loses independence
It's day whatever of Ukraine's COVID-19 disaster and President Volodymyr Zelensky has officially introduced Kyrylo Shevchenko as National Bank of Ukraine governor.
As sacked Prime Minister Oleksiy Honcharuk recently pointed out in a 3-hour interview with the Golden Triangle guy Dmytro, the chronology of the mess at the central bank is important.
---
Chronology
Dec 16, 2019 - Someone records 90-minute meeting between government and central bank reps about Ukraine's monetary and fiscal mess.
Jan 15, 2020 - Snippets of the chit chat unflattering to Honcharuk are released.
Jan 17, 2020 - Honcharuk resigns. (
Operation Y
)
June 30, 2020 - NBU Governor Yakiv Smolii meets with President Volodymyr Zelensky.
July 1, 2020 - Smolii resigns in writing, claiming "systemic political pressure." (
NBU is Kaput
)
July 2, 2020 - Zelensky economic advisor Oleh Ustenko
says
no one, including Smolii is irreplaceable.
July 2, 2020 - Finance Minister Serhiy Marchenko
says
Smolii's resignation ruined deal of the decade
July 3, 2020 - Parliament accepts Smolii's resignation.
July 3, 2020 - Ukrgasbank Board Chairman Kyrylo Shevchenko
posts an interview with himself
on his personal web page.
July 4, 2020 - Zelensky babbles about UAH/USD rate somewhere in Odesa region. (
Babbling
)
July 16, 2020 - Parliament approves Zelensky's nomination of Shevchenko to replace Smolii.
---
On July 10, world famous Ukraine expert Anders Aslund tweeted to say that he does not support Serhiy Kruglyk as a candidate to replace Smolii. World famous Ukraine watcher Timothy Ash tweeted back the same thing. Both men referred to a post commissioned by the Kyiv-based Truman Agency supporting Kruglyk's candidacy to replace Smolii.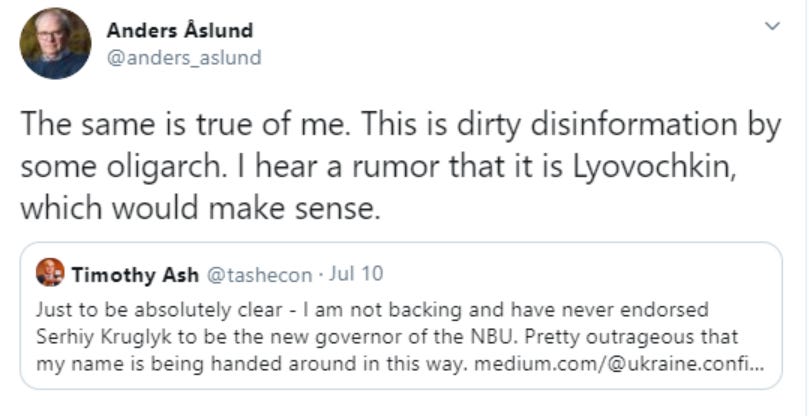 Confusing matters further, Truman Agency published a sketchy 2-minute video on YouTube showing young employees of the National Bank talking about how important it is to keep the central bank independent.
---
(to be continued)