Discover more from ukraine@war
Ultra-competitive Ukraine-style Politics
Ukraine's COVID-19 Disaster
A tidal wave of new infections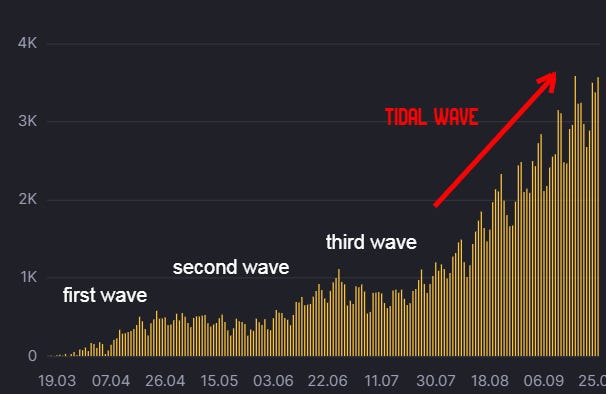 KYIV. It's day whatever of Ukraine's COVID-19 disaster and the weekly number of patients admitted to the nation's hospitals with pneumonia has almost quadrupled compared to last month. Officials say we are quickly moving toward overwhelming the country's healthcare system and seeing even more devastating illness and death.
President Volodymyr Zelensky has not been helpful. Two months ago, he said he wanted to be infected with the virus to prove it's not so scary - a macho stunt worthy of his disruptor idol Jair Bolsonaro, President of Brasil.
Yesterday in Bratislava, Zelensky said Ukraine is experiencing the second wave of COVID-19 infections.
The positive dynamics of morbidity in over the last six months have been driven by pathological bad thinking, whacko algorithms, formulations of set theory without variables, kooky mitigation models for flattening the curve, magical epidemic fantasies, irredeemable health officials, pandemic politics and false assumptions promulgated by poorly calibrated agents with bad ideas who abandoned the precautionary principle.
The result isn't unlike a horrible accident, except it's been caused by an unemployed actor desperate for attention and applause. You want to laugh and be entertained, but you also want to avoid becoming a victim.